STREET FAIR - RED BANK, NJ
click on any photo to ENLARGE
September 9, 2012. The weather was great and another street fair was in progress.
At the very center of town, Broad and Monmouth Streets, was a great musical sound performed by the Flying Dogs of Jupiter. The band was very professional and most entertaining.
For the kids: face painting, jumping rides (even with the bad spelling), a clown that made animals out of balloons, a yellow chicken from the University and the guy on stilts.
Barbizon was there with mannequins that made one give a double take.
We found an open table on the sidewalk at no ordinary Joes; I enjoyed the Beasty Burger. Paddy had the Apple Salad.

Back on the street, we gave a couple of dollars to two worthy causes, the Red Bank Fire Department and our soldiers.
There were bargains to be had.
The Ban Fracking Now group was there, Paddy signed up.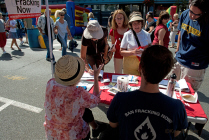 Talk about recycling, how about guitar strings.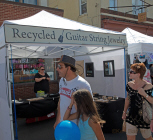 Food, yes it was everywhere.
Every weekend Red Bank has ad hoc street musicians, today was no different.

Another fun event in Red Bank.