PEDDLER'S VILLAGE - LAHASKA, PA
click on any photo to ENLARGE
September 21, 2012. The weather was great and a scarecrow competition was in progress. Paddy and I arrived at lunchtime and enjoyed a great lunch at the Cock and Bull restaurant. We got a window seat looking over a portion of the village.
As I was taking scarecrow photos, Paddy would duck into various shops and look around. It was a perfect arrangement.
Geez, it's still September and this jolly guy shows up already. Someone's plan worked perfectly because Paddy said: "Maybe I could buy some Christmas gifts while we're here".

I had to admit that Peddler's Village had some unusual gift ideas. Imagine this letter: "Dear car dealership, as I write this letter on Elephant dung paper, I'm reminded that I should bring my car in for more of your expert maintenance".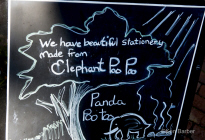 I got a huge chuckle out of this guy's shirt.

Paddy got a bigger chuckle out of this chocolate shop window sign.

Completing the scarecrow tour:
Paddy bought some gifts today, I took some photos and on the way back home we stopped in Princeton for dinner. It was a fun day.