THE OLD MILL - ALLENTOWN, NJ
click on any photo to ENLARGE
September 24, 2012. I received an invitation from a member of the Down-the-Shore-Photography-Guild to join a photo shoot in Historic Allentown, NJ. The weather was perfect.
Traveling south on Main Street I recognized The Old Mill. What I didn't expect was how radically things have changed since my last visit years ago.
The major change was the addition of a very robust concrete and steel bridge next to the Old Mill.
To accomplish this project, the Old Mill was closed by eminent domain to accommodate the large construction vehicles necessary to build the bridge. During the closure, the customer base was gone and the owner took this period to redesign a new Old Mill. As I entered the building, I found it completely gutted from top to bottom, with tools in use everywhere.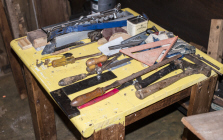 Entering the basement, one could find furniture and other remnants of previous businesses. (remember the sign: Black Forest Restaurant?)
What was especially interesting was the drive train which ran the mill. Outside was the very large water wheel, then the outdoor gearing to engage the shaft which entered the building to drive the many pieces of equipment to perform mill functions.
Outside again and behind the Old Mill were some shops, construction shacks and storage of equipment from yesteryear. There was also a Quilter's Cottage, still in operation today at the Old Mill.
With banks not loaning out money that the federal reserve gave them for free, one wonders how long it will take for the Old Mill to open again ? My wife and I look forward to the day when we can have another great meal at the Old Mill !