MIDDLETOWN DAY - Middletown, NJ
click on any photo to ENLARGE
September 29, 2012. The annual Middletown Day was a splendid event. While there were random black clouds around, the weather held for a very pleasant dry day.
There were many venues for the very small kids, so I just took photos of some areas of interest to the older kids. First some Marshal Arts activities, then horseback riding.
Then we saw a very tall Middletown Fire Department ladder truck No. 180. The ladder truck is used for rescues at high rise buildings or to apply high pressure water during special fires.
And Hose Company Engine 191 that pumps water for the ladder truck when it is used for high rise fires.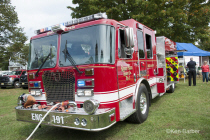 The Chief and his men were eager to answer all of mine and Paddy's questions.
With guidance from a professional fireman, this youngster put out an actual fire. He was real proud of himself too.
Future Penn Stater was honing his skills.
There were many rides for the young kids too.
Poricy Park re-enactors were on hand advertising the park.
Middletown Day also had a vintage car show.
Click here to see photos of the Colts Neck Swing Band.