LONG DELL INN (B&B) - CENTERVILLE, MA
CAPE COD
click on any photo to ENLARGE
October 8-9, 2012. One of our fall trip plans was to relax on Cape Cod. A friend of mine told me that he recently stopped at a Bed and Breakfast in Centerville and had an enjoyable time. Since my wife Paddy never stayed at a Bed and Breakfast, we made a reservation. The Long Dell Inn was a well appointed B&B in a quiet location.
Arriving around 3:30 PM, we met the Innkeepers: Marc and Donna Jacobson. They made us feel right at home and gave us a history of the Inn and the surrounding areas of the Cape. Marc is the breakfast chef and he told Paddy and I that we were in for a treat in the morning.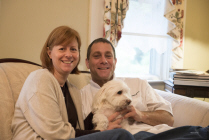 Marc was right about breakfast; the first morning we had Lemon Ricotta pancakes and the next morning we had eggs-Benedict... umm delicious.
On the second day, I couldn't help but notice the "Best of Centerville 2012" plaque sitting in the breakfast room.
I told Paddy that I was going to get on the internet WI-FI to check the weather for the next leg of our trip, so Paddy relaxed in the comfortable living room, next to the fireplace, and read some Cape Cod literature. Paddy wasn't the only one relaxing in the living room.
Our visit concluded, we packed our bags, loaded the car and said goodbye to Marc and Donna. We told them we had a marvelous time and mentioned that their restaurant recommendations were perfect as we had great meals. It was a most pleasant and memorable time at the Long Dell Inn.