PLYMOUTH ROCK and the MAYFLOWER
click on any photo to ENLARGE
October 8, 2012. Traveling between Waltham, MA and Cape Cod, we took a quick stop at Plymouth, MA to check out the "ROCK". Over the years the rock had been moved several times and had been broken several times as well. At its current location, it will probably not break again.
While in Plymouth, we took the Mayflower tour. Being over 6 feet tall and bumping my head inside the ship, it was clear that many Pilgrims were short in stature.
Other historic artifacts were in Plymouth. Here is a bronze plaque reminding us that the ancestors of the European Settlers killed millions of Native Americans, stole their land and denigrated their culture. I still remember the old original black and white cowboy movies where one of the bad guys would say: "the only good Indian is a dead Indian".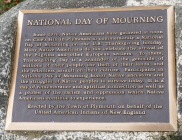 There was also a monument to the 104 passengers of the Mayflower who died in the first year at Plymouth.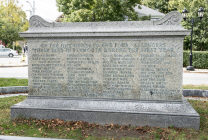 There was also a large monument to the Daughters of the American Revolution, Women of the Mayflower.
On a hill above Plymouth Rock, were some well appointed homes.
Having walked for some time, we stopped for lunch at the ISSAC'S On The Waterfront. The food was delicious and the view of the Ocean was very nice.
Of course, there were lots of gift shops in Plymouth.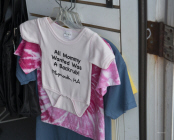 It was a very nice visit to Plymouth and it refreshed our history of the Pilgrims.