MT GREYLOCK - ADAMS, MA
click on any photo to ENLARGE
October 12, 2012. On our fall trip we were checking out the foliage travelling west on Rt. 2. As we passed through North Adams, MA we saw a sign for Mt Greylock. Since Paddy and I got engaged on top of Mt Greylock, we had to revisit the site.
The mountain is almost 3500 feet above sea level and during the long uphill drive we stopped at various pull-offs to take photos. We were above the clouds this day.
Upon arrival, we climbed the 93 foot Veterans Memorial Tower, which allowed views for many miles at the 3500 foot level. We also had a view of the Bascom Lodge.
While up inside the tower, it started to sleet and when we got back down it had stopped, with only a trace of pellets left over.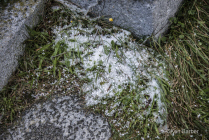 Back on the ground we followed the path to the lodge and passed the writing of Henry David Thoreu.
At the lodge, we had a cup of coffee and I took a photo of a couple of folks that were having lunch by the window.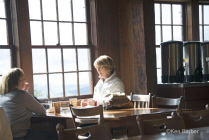 Paddy and I agreed, that is was good to revisit Mt Greylock.