SUPERSTORM SANDY
This webpage has photos of: Pirates Cove Restaurant-Belford, Monmouth Cove Marina, Bayshore Waterfront Park, D'Jais Bar and Grill-Belmar, Rooney's Restaurant-Long Branch, Danish Cafe-Red Bank, St Charles Riverboat-Perth Amboy, Pier Village restaurants: (McCloone's, Avenue, Sirena, Turning Point), Monmouth Beach Bathing Pavilion, Keyport Fishery, Ye Cottage Inn-Keyport, Asbury Park: (Stone Pony, Wonder Bar, Berkeley Oceanfront Hotel), The Great Auditorium-Ocean Grove, Highlands restaurants: (Clam Hut, Bahrs), Atlantic HIghlands restaurants: (On the Deck, Sissy's), homes along Leonardo beach front.
click on any photo to ENLARGE
Monday October 29, 2012, the superstorm hits.
The weather forecasters were very accurate predicting this unusual storm. They said this category 1 hurricane would start with the traditional northeast path from the Caribbean; however, instead of continuing out to sea away from the US mainland, it would make a sharp left turn and hit straight into New Jersey, which it did. Making landfall near Atlantic City, this huge, 1500 mile wide storm upset the lives of many millions of people. In West Virginia they even had two feet of snow!
In Middletown, NJ we lost power at 2:30 PM on Monday the 29th. Having a small portable generator, we continued computing until an hour later when we lost the internet. After that, our only information source was from AM radio out of New York City. While most hurricane damage is caused by very high wind and torrential rains, It was very clear that the major destruction by this disaster in NJ was by storm surge, which broke all weather records everywhere and destroyed much of the Jersey Shore and barrier islands.
The storm went through fairly quickly and by the next afternoon Tuesday the 30th, the radio said that some people were out and about checking things out. With the possibility of being without power for more than a week, Paddy and I headed out Wednesday October 31st to see if we could re-fill one of our gasoline containers for our generator.
Two days after the storm, Wednesday October 31, 2012, Atlantic Highlands, Belford, Port Monmouth.
We found an open gas station but there were over 100 cars in line and since I still had extra gas at home, I thought I would try again in a couple of days.
We headed to Atlantic Highlands, NJ and found yellow ribbon "barricades" too far away from the Shore Casino and the Marina, to tell if there was any damage. We did find Original Pizza making pies (darkened room, no electricity) and the Memphis Pig Out who served pulled pork BBQ and beans right on the sidewalk. Update: Revisited on November 12th: barricades still in place, but traffic control guy said: "Yes, the Shore Casino was damaged".
Our next stop was to Belford, NJ by the commercial fishing industry, to check out the Pirates Cove restaurant, where Paddy and I had enjoyed lunches on the patio. When we arrived, we found the restaurant damaged, and the patio was gone. Only patio pilings remained after the storm surge.
We found remnants of the patio under piles of debris. It wasn't until we drove away that we found the main piece of the patio that floated several hundred feet from its original location. It landed on a truck.
Driving north on Port Monmouth Road, along the ocean, we stopped at the Bayshore Waterfront Park where the block long fishing pier had been destroyed.
Further north at Monmouth Cove Marina, we came upon pleasure boats that were tossed up next to the roadway. We found out that many of the boats were not in the water, but in dry dock, and still they were washed away.
A typical scene with downed trees everywhere. Since a significant number of electrical power wires, telephone lines and internet cables were downed, it looked like it would take a lot more than a week until things are put back normal again.
Four days after the storm, Friday November 2, 2012, Belmar, NJ.
I had a few photos of Belmar during a summer sandcastle contest, so I thought I would make a photo comparison. The original beach entrance at 18th avenue, had big signs, a dunes fence, a boardwalk and lots of fine beach sand. Now: ALL GONE !
Restaurant furniture was crumpled into a tangled mess.
The D'Jais sign was still up and the D'Jais Bar and Grill was still standing; however, there was boardwalk debris around the building and lots of water damage inside.
While most businesses appeared to suffered more water damage than wind damage, Mamalukes Pizza lost a large section of roof shingles.
What was once a pristine beach, with boardwalks and sand dunes is now history.
As we returned to our car we started to see pieces of the boardwalk a block from the beach. Then two blocks away, we found a large piece of boardwalk with attached benches in someone's front yard.
I wonder how long it will take to fix this disaster. Will we see the old familiar Belmar beach in 2013, 2014 ?

Five days after the storm, Saturday November 3, 2012, Long Branch, NJ.
We wanted to see if Pier Village was open, but found it closed to the public. Further north on Ocean Avenue we saw a sign indicating that Rooney's restaurant was open, so we stopped in. In true entrepreneurial spirit Rooney's had ordered an emergency generator and fresh food. Update: Scroll down for the Pier Village status.
Even though we had lunch in Little Silver at the Turning Point restaurant, we stopped in at Rooney's for soup and tea.
Rooney's had a basement full of water, and the outdoor Dog Bar was gutted, but fortunately, the restaurant operation was not affected. Because of the Long Branch curfew at 7 PM, Rooney's would not take new patrons after 5 PM. It was an eerie sight seeing an empty Promenade as it is always packed in the summer.
I wanted to post my photos on the internet, so we stopped at a Wi-Fi hot spot at the Danish Cafe across the street from the Two River Theater in Red Bank, NJ. We had coffee and of course a great Danish. The cafe provided a logon password and when the cafe closes in the evening, the outer area is still free for Wi-Fi use after hours.
When we returned home, we found that our AC power and internet access was turned on !!
Seven days after the storm, Monday November 5, 2012, Perth Amboy, NJ.
I wondered how the St Charles Riverboat faired in the hurricane, so I took a drive up to Perth Amboy. At first it looked untouched, but one of the workman told me what happened.
If you look at the original photos from 5 months before the hurricane you will see a walkway all around the riverboat.
The after storm photos showed that the walkway was gone. The workman said that Inside the riverboat, nothing was damaged.
The modern cruise ship fleet was moved a mile away to ride out the storm and nothing happened to those fine vessels.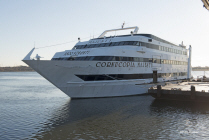 Fourteen days after the storm, Sunday November 11, 2012, Pier Village, Long Branch, NJ.
More than a week ago, we tried to check out Pier Village but it was blocked. I understand that when an area has no power, it is blocked from the public because the alarm systems would not work should there be looters. Today power was back and we had a chance to review the situation.
From the south end of the village, looking north, all the restaurants on the ocean side were closed. All the cafe's and shops across Ocean Avenue and away from the ocean had power and many were open for business.
McCloone's Pier House Restaurant
Being so close to the ocean, the underbelly/piling/foundation of the restaurant and boardwalk must have taken a significant storm surge. McCloone's was completely fenced off to visitors. From a limited outside view (no access to the beach side), it didn't look like the restaurant area had damage. Update: November 18, 2012. Phone call revealed that McCloone's was open today.
Avenue Restaurant
Same problem with storm surge as McCloone's. The Avenue restaurant did not have a fence, instead it had a sign stating that the building was unsafe for human occupancy. From a limited outside view (no access to the beach side), it didn't look like the restaurant area had damage.
Sirena Restaurant
Same situation as the Avenue Restaurant, closed and a posted sign for being unsafe. From a limited outside view (no access to the beach side), it didn't look like the restaurant area had damage.
It was lunch time, so Paddy and I stopped in at the Turning Point cafe. Excellent food. The Turning Point had no damage from the hurricane.
The weather was amazing, 65 degrees in November! Folks were riding bikes, walking and running.
Fourteen days after the storm, Sunday November 11, 2012, Monmouth Beach, NJ.
Along Ocean Avenue, the Monmouth Beach Bathing Pavilion took a major hit. All cabanas were gone.
Fifteen days after the storm, Monday November 12, 2012, Keyport, NJ.
On many occasions, I would get seafood at the Keyport Fishery, so I wanted to see if they had any damage. The building was intact, but it had lots of water damage. One of the workman said they would be back in about 2 months.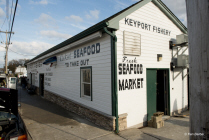 Across the street, was a completely different scenario: Ye Cottage Inn was gutted by the storm surge.
Being at water's edge on Keyport Harbor, when the storm surge moved into Raritan Bay it pushed the water over the bulkhead and over the wall and into the restaurant.
Across from the restaurant, boats at the marina were piled up.
Ye Cottage Inn update August 21, 2013: Ye Cottage Inn is GONE !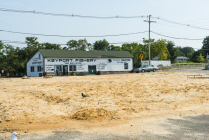 Two blocks away from Ye Cottage Inn, toward the center of town but in the harbor, was the Steamboat Dock Museum, which was destroyed.

Next door to the museum, a bar also took a major hit.

Seventeen days after the storm, Wednesday November 14, 2012, Asbury Park.

Driving from south to north on Ocean Avenue, all restaurants and business on the ocean side were closed. A giant fence along the whole length of the avenue protected the area and only a few contractors could be seen working. What was very surprising was the intact boardwalk north of Convention Hall. Having seen Belmar's boardwalk wiped out, it was unusual to see it almost untouched. Convention Hall was still standing, but without physical access, there was not way to asses storm damage.

On the other side of Ocean Avenue, there were no signs of structural damage. The famous Stone Pony was still standing, but there was no way to tell if there was internal water damage. With the exception of the Berkeley Oceanfront hotel, all other businesses on either side of Ocean Avenue were closed.

Eighteen days after the storm, Thursday November 15, 2012, Ocean Grove, NJ.

Even though the Great Auditorium was 3 blocks from the Atlantic Ocean, I had to see if this famous landmark was still intact. It was clear that the roof suffered some damage and was in the process of being repaired. One of the Auditorium staff told me that inside, there was no damage.

The Ocean Grove boardwalk was considerably damaged by the storm surge. Large chunks of boardwalk were moved around like jigsaw puzzle pieces.

Between Ocean Grove and Asbury Park was a building with several businesses. It was right on the beach and was destroyed.

Twenty one days after the storm, Sunday November 18, 2012, Highlands, NJ.

We wanted to see if one of our favorite, casual seafood restaurants was open, but the Clam Hut took a major hit from the hurricane.

Around the restaurant on the north side, the whole patio area was blown off its foundation and into the water.

Clam Hut

update August 21, 2013: The Clam Hut is GONE ! (only the Marina building next door remains).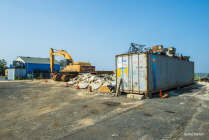 Having seen the destruction of the Clam Hut, we were very surprised to see that only a half mile south, Bahrs Seafood Restaurant was open!
With the combination of elevation above the water line and a very strong bulkhead, those factors must have saved the restaurant.
Twenty seven days after the storm, Sunday November 24, 2012, Atlantic Highlands, NJ.
Trying once again to assess the damage to the Shore Casino, it was still off limits. While the building was still standing, I was too far away to get real information.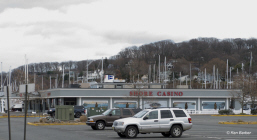 I did see the On the Deck restaurant and harbor view bar, which appeared to take a hit on the patio bar area as well as the lower back of the buiding. Sissy's restaurant on the harbor appeared intact, but with water damage. Both restaurants were closed and pumps were working outside.
Just north of Atlantic Highlands, some Leonardo homes along the shore took a serious hit. I wondered where those big boulders came from?
Paddy and I counted our blessings because we received no damage to our house. We feel so very sorry for those who lost loved ones, homes, cars and businesses. Everyone that was affected, in even a small way, will remember this storm forever.