CHRISTMAS PARADE 2012
CLINTON, NJ
click on any photo to ENLARGE
December 7, 2012. Looking for another day trip, we found an internet ad for the largest Christmas Parade in Hunterdon County, so we checked it out. Having had dinner at the Clinton House several times before, we decided to dine there before the parade. The food was excellent.
Being our first parade trip, we crossed the bridge by the Red Mill Museum Village and entered the town center to check out the Christmas decorations.
At 7PM the parade started with military vehicles as a reminder of December 7th when Pearl Harbor was attacked. Then the local fire departments displayed their finest.
Under a very slight mist, the parade was fully underway. The weather cleared for most of the parade with a minor sprinkle from time to time.
Capping off this splendid parade was Santa Claus !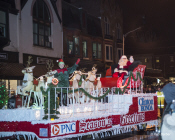 It was an impressive parade, it had lots of nicely decorated floats and many entertaining bands. A great night out and everyone had fun.