WHITAKER CENTER FOR SCIENCE AND THE ARTS
HARRISBURG, PA
click on any photo to ENLARGE
March 2, 2013. A visit to the Whitaker Center proved to be a fun event for my grandson and the whole family.
Getting off the elevator at the parking garage and up one flight we were at the gift shop and then the information center.
Our first display was a sound system with iron filings on top of a large speaker and the filings would "dance" to the music. Then a maze of gears that you could crank and watch mechanical things move in all directions.
There was some interesting and imaginative art hanging on all the walls.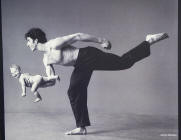 There were lots of "hands on" things to do for both kids and adults.
A very popular exhibit was the hurricane, where the air started slowly and hit 90 MPH.
The Seismograph was neat, it you lightly taped on the specific place, with your foot, the display was minimal, if you kicked it harder, the pattern went almost full scale.
This exhibit allowed you to build a dam out of fine stone particles and watch how the running water reached it's lower level.
In this science exhibit, when two individuals push against each other, the one with least amount of mass traveled the furthest along a roller bearing platform.
Another fun "hands on" activity was this "pinewood derby" and at the finish line was a very accurate timer that displayed who was the winner and by how much.
One of the main features of our visit was the IMAX feature about the building of the Canadian Pacific coast to coast railroad. Me, my son and my grandson all like railroading, so it was an especially enjoyable experience.
My grandson borrowed a point and shoot camera and he took over a hundred photos today. The Whitaker Center has lots of photo opportunities.