PINE CREEK RAILROAD EASTER BUNNY TRAIN
ALLAIRE ST PARK - HOWELL, NJ
click on any photo to ENLARGE
March 30, 2013. Easter Weekend and the famous Bunny train was again riding the rails at Allaire State Park in Howell , NJ. There were many train riders today. Allaire State Park had a huge Easter egg hunt and families came from miles around for the hunt. There were so many people at the train station, that the Pine Creek Railroad abandoned their schedule and ran extra trains so as not to disappoint a single family. As soon as the line got half way down, it would automatically fill up again, people just straggled randomly in from the park.
Anxious riders were cued up waiting for that familiar diesel horn as the train came into the yard; and finally the train arrived. The Easter Bunny walked the length of the train giving parents ample time to take photos with their kids.
Between unloading passengers and loading the next group of families, it was picture time at the station.
The next ticket holders were ready to board the train.
A number of youngsters wanted to ride the caboose and they were happily accommodated.
After the passengers were seated, the Easter Bunny got on the train, waived to the next group of riders for yet another picture opportunity.
Finally, the conductor checked out the space behind the train and when it was all clear, he give the engineer the high sign to start another trip.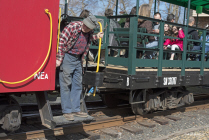 It was a banner day for the Pine Creek Railroad. The crowds were huge, thanks in part to the Easter Egg hunt and to the great, sunny, warm weather.