FREEHOLD MEMORIAL DAY PARADE
FREEHOLD, NJ
click on any photo to ENLARGE
May 27, 2013. Freehold continues its tradition with the 139th annual Memorial Day Parade; which is the largest in New Jersey.
If you look way down the street, you will see more parade, but the pain from my recent back injury prevented me from staying longer.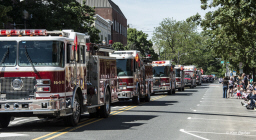 One again, Freehold put on a splendid parade under perfect weather.