OLD RHINEBECK AERODROME
RHINEBECK, NY
click on any photo to ENLARGE
October 12, 2013. It was a gorgeous day for spectators, warm and sunny. Paddy and I arrived around 1:20PM for the 2 o'clock show.
We were greeted by a dozen or so vintage vehicles which were between 70 and 113 years old. I took some sample photos.
As expected, there were a number of vintage aircraft on display.
A major project under way at the Old Rhinebeck Aerodrome Museum is to build a replica of the Ryan Airline Company's Spirit Of St Louis that carried Charles Lindberg across the Atlantic Ocean to Paris.
At 2 PM the announcer, on the top of the red tower, started the program with an introduction to a period fashion show.
Next on the program was a parade of the vintage automobiles.
I was very impressed with the 1911 Baker Electric still in operation after 102 years. As the other vehicles did, the Baker went up and down the field for spectators. Many people today think the electric car is a new innovation...not so.
Before the start of the show, the maintenance team was preparing the aircraft which included a hand pump to add fuel.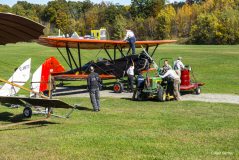 Two planes took off and one of them dropped a roll of toilet paper, which quickly became a vert long streamer. The other plane came along and cut the long streamer in mid flight.
It was a great weather day for spectators, but it was a bad day for aviators as the wind was strong and every few minutes it changed from North to South then from the East. One of the vintage aircraft tried to take off, but the cross wind was too powerful and the ground crews had to stabilized the craft as it moved, under power, back and forth in front of the spectator area. Following that, a number of vintage aircraft, which would have flown today, also taxied up and down the field with ground crews.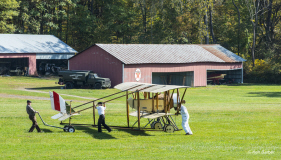 A comedy routine where a bicycle, fitted with a fake rocket, was to cross the field and crash; however it was also somewhat effected by the cross wind. It was rather funny anyway as the bicycle almost fell over along the way.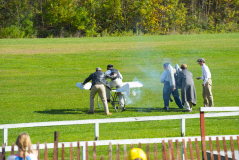 A most interesting airplane was this one because, while most engines have the block stationary with moving pistons, this remarkable plane had stationary pistons and a revolving engine block !
The Aerodrome had a food building and a comfortable area with picnic tables to eat.
While it was a fun and very interesting day, had there been no wind, more vintage airplanes would have taken to the air making it a really remarkable experience.