FAMILY GET TOGETHER - FRIDAY HARRISBURG, PA click on any photo to ENLARGE
November 15, 2013. From Georgia, New Jersey and Pennsylvania, we met at Gullifty's restaurant in Camp Hill, PA for lunch.
After lunch, we made a quick stop at Starbucks for a cup of Joe. In the 50's, if someone had said that someday two cups of coffee would cost $8, people would laugh out loud.
Travelling from Camp Hill to Harrisburg, we entered the State Museum of Pennsylvania. First stop was the kids section with hands-on entertainment.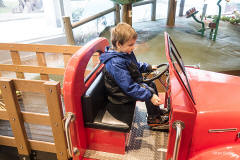 Then we entered the main part of the museum.
The Indian section.
Before WWII, this never bothered anyone.
This mural was on a giant wall.
Laura spotted this refrigerator just like the one on the old TV show: "The Honeymooners".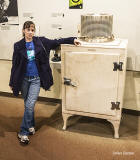 This is way before the SPCA.
Sherry said the very same Lycoming engine is in her husband's airplane.
The gang visits William Penn.
We left the museum and took a side trip to a Viaduct to take train videos.
Then off to dinner at the Tavern on the Hill, excellent meal.
It was a wonderful day, everyone had a great time.