NEW HOPE STEAMPUNK FANTASY FAIRE NEW HOPE, PA click on any photo to ENLARGE
Saturday April 5, 2014. For things to do on weekends, I go on the internet and check my "favorite cities list" to see what is going on. When I queried New Hope, I found STEAMPUNK. I had no idea what it was, but the photos and videos looked interesting, so I had to check it out.
Upon arrival at the Eagle Fire Hall I found a parking space (free parking) and paid my $15 admission fee for day time activities and started taking photos. Shorly after arrival, the 'Pirate Crew of the Dead Rabbit' was on stage performing for the crowd.
I was very surprised to recognize the couple displaying their items from the 'Hustle & Bustle Creations LLC'. Surprised because I took their photo in April of 2011 at the New Hope Rennaisance Faire and they recognized my webpage name ! I had to include their 2011 photo.
A very talented Professor Prescott P. Prinklefoot had some very unique experiments, one of which, when completed, will blow a steam train whistle when the 'alarm clock' goes off.
Pretty Marin Cenwein Gardner was showing off her special dress design, available from Dragon Girl Design.
I took a photo of the young lady on the left and she said: "wait, you must take a photo of my twin", so I did. Both Colleen & Nikki are the owners of 'The Roguish Rabbit'.
This young man had some excellent examples of Steampunk with his use of gears and engine cylinders.
Mistress Rae of Mistress Rae's Decadent Designs was on hand displaying her art. I paid special attention to her necklace, because of the many tiny jewels and chains etc. which created this rare, one of a kind jewelry item.
TwitchTwitch Productions had a display advertising the Long Island Macabre Faire Film Fest, with two young ladies demonstrating the comparison between devilish and innocent.
An actor who could scare an adult, was no match for this little girl who 'stared him down', correction: 'stared him up'.
When I looked at the many photos and videos on the internet, this gentleman's Steampunk design reflected the style of those videos. His son was along today and would probably help with a Steampunk project next year.
For a fee, one could get a professional photo in Steampunk garb.
This young lady's glassware sparkled against the black velvet.
The MOJO'S had some unique Steampunk items on display.
There were many well dressed Steampunk participants today. Their efforts made Steampunk come alive.
Some really odd items on display today. Some needed an explanation, others did not.
There was also a Macabre Faire Film Festival inside the Fire Hall. I happened to sit down in the middle of the movie: "Attack of the Brain People". The audience was laughing, but I initially didn't get the joke. After a few minutes I understood: the movie plot was grade school level, the acting was really bad and the special effects were so primitive (Ex: as the brains were attacking along the ground, one could see a white string pulling them along). This movie turned out to be funny and I laughed along with the crowd.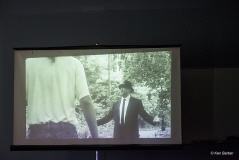 I only stayed for the daytime activities at the Eagle Fire Hall. There was a whole schedule of night activities at the Havana in downtown New Hope. Maybe next year I will check out Havana as well.
After today's experience, can I define Steampunk: NO, but everyone, including me, had a fun time. I'll be looking forward to the next Steampunk event, for some more fun.