GROUNDS FOR SCULPTURE
HAMILTON, NJ
click on any photo to ENLARGE
April 27, 2014. Paddy and I last visited this amazing place 5 years ago and we needed a return visit. Our first stop was the visitor center where we saw a photo of the smiling founder, Seward Johnson and the famous sailor's kiss. We were very fortunate on our first visit to actually meet Mr. Johnson at the Rats restaurant.
We had heard that the Marilyn Monroe exhibit was being added to the grounds and wanted to check it out. Marilyn was not yet ready for prime time and her head was covered. It's a very large size and when completed, I will make sure a person is standing beside it to evaluate size comparison.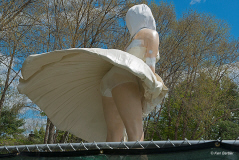 Here is an excellent example of the very tall Abe Lincoln; huge sculpture with great detail.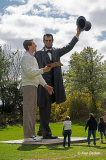 Paddy and I had fun interacting with the sculptures:
Steal a wallet Bribe a policeman.
Lunch Cellphone time Stalemate.
Signing the cast Helping the painter Listening to stories.
Interesting book Whew that stinks ! just hangin' out.
Also in the Navy Lots of homes for sale.
There were quite a few peacocks on the grounds. Some were not shy.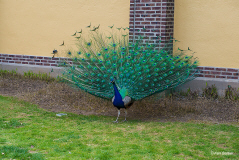 This little girl must have just learned to read, because she was slowly reading from the book that the sculpture was holding.
An amazing bigger than life sculpture of artist Grant Wood's "American Gothic".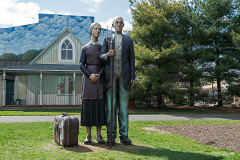 We marveled at the many types of art on the grounds.
Paddy and I took our famous "mirror shot" just before leaving the grounds.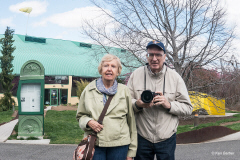 We had a wonderful time and the weather was excellent. There were lots of new sculptures that we didn't see on our first visit.