THE GREAT TRAIN ROBBERY
PINE CREEK RAILROAD - ALAIRE STATE PARK
click on any photo to ENLARGE
July 20, 2008. The New Jersey Museum of Transportation, Inc is the proud owner and manager of the oldest continuously operating preservation railway in the United States. It held its famous Great Train Robbery special event July 19th & 20th.
Upon arrival, my wife Paddy and I heard some wonderful singing from these two young ladies.
After a couple of photos of things that caught our eye, we heard the train whistle off in the distance.
The train makes two round trips and we arrived just as it was completing pass #1.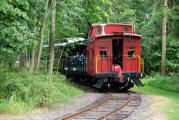 As the train completed it's run, the passengers disembarked and the next group of patrons were already waiting to climb aboard.
After a short break, the "Great Train Robbery Cast" also climbed aboard.
After a few minutes, the train was out in the clear, where the animals roamed. Suddenly, the train was stopped, the bad guys entered the train and got the drop on the good guys. The leader of the bad guys was off the train barking orders.
With gun coverage both on and off the train, the bad guys got the drop on the Sheriff and his deputy; they also took the payroll strong box and a female hostage.
After the bad guys ran off, the good guys stopped at the next station to pick up the territorial marshal. The marshal said he knew the location of the bad guys hideout and vowed to get them.
True to his word, the marshal found the hideout. The bad guy leader said that she didn't rob the train, didn't pickup the strong box and didn't take a hostage.
Suddenly, the hostage broke free and the bad guys started shooting. The good guys returned fire and immediately killed off two bad guys.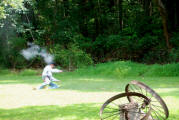 The bad guy leader fired at the marshal and hit him in the leg, while simultaneously, the freed hostage fired and downed the leader.
The marshal was wounded, but the hostage was free and the strong box was recovered.
After a most enjoyable event, we exited the train and took some photos of the musical entertainers, the era costume folks and a couple of the cast members.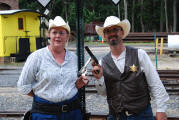 As we were leaving, the next railroad patrons were arriving to take the train ride.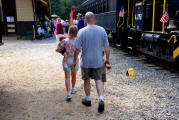 It was a splendid afternoon. I know the kids enjoyed the event, but the cast had some of the funniest "G" rated one liners that the adults really enjoyed.
Click HERE to view the Pine Creek RR Haunted Halloween Express