HAUNTED HALLOWEEN EXPRESS
PINE CREEK RAILROAD - ALLAIRE STATE PARK
click on any photo to ENLARGE
October 30, 2009. The New Jersey Museum of Transportation, Inc is the proud owner and manager of the oldest continuously operating preservation railway in the United States. It held its famous Haunted Halloween Express train several weekends in October 2009.
Upon arrival at it's Allaire State Park location, the railroad put the visitors in the Halloween spirit with numerous decorations.
Next we were greeted by the smiling faces at the ticket office.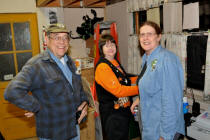 The crews were preparing for the trip and the actors posed with visitors.
The conductor announced "all aboard", then tickets were collected and visitors got on board.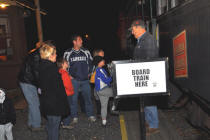 After the train started moving, a witch and another scary creature started interfacing with the kids who were aboard. The cars were filled with haunted music that added to the mood.
With no advanced notice, a fog enveloped the passenger car and "DEATH" appeared.
After "DEATH" scared everyone on the train, he got off and walked toward town.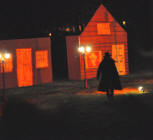 A short time later, a ghoul started attacking the passengers.
The passengers escaped unscathed and as the train was passing the half way point, we saw the next group of visitors at the ticket office.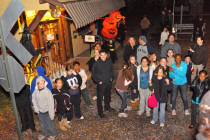 On the way, we passed several cemeteries and skeletons.
At one of the cemeteries, Death's assistant climbed on board and scared all the kids.
Off in the darkness, we again saw "DEATH" and he re-boarded the train. The kids will never forget him.
All too quickly, the Haunted Halloween Express trip ended. As passengers disembarked, the next group of excited kids were more than ready to start their trip.
The trips were sold out and everyone, kids and grownups had a great time.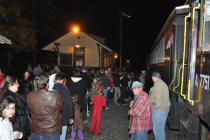 After the trip, the witch posed with the engineer and several railroad volunteers posed as well.
At last, Death also took his turn in front of the camera.
The Haunted Halloween Express train was a big success and everyone had fun.
Click HERE to view the Pine Creek RR Great Train Robbery