HOT RODS AND HARLEYS 2009
RAHWAY, NJ
click on any photo to ENLARGE
May 16, 2009. Hosted by Liberty Harley Davidson of Rahway, this event was one of the most fun afternoons in memory. The world famous Bubba Blackwell **, traveled all the way from Alabama, to put on a fantastic daredevil motorcycle show for the huge crowd that attended.
Bubba is an extraordinary talent and he pleased the crowd with his numerous burn outs, high speed sprints down the street and amazing acts of skills and ability.
Some of the following photos appear to show Bubba at slow speeds because the camera "stopped action" at 1/1000 of a second, but Bubba was flying.
Bubba invited two of his junior stuntmen to perform, but one had a slight mishap. The lad was immediately attended to and walked off more embarrassed than hurt.
The other junior stuntman completed his act with excellent and difficult maneuvers. He had an unusual dismount: he hit the brakes, did a flip over the handle bars and landed on his feet.
Back in action and after many burnouts today, Bubba told the crowd that on one of his next burn outs he would loose his well worn rear tire and sure enough, the tire split down the middle and went very flat. After that, Bubba mounted the big, very heavy, Harley and did more wheelies and daredevil turns. It was an amazing show and everyone had a blast.
My wife Paddy and I took a short tour of Liberty Harley Davidson. It was well equipped and looked very friendly and professional.
There were bikes everywhere and I photographed just a few of what I thought were non-standard.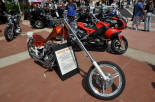 We took the hot rod tour and I think it covered eight city blocks. On display were hot rods, vintage cars and lots of customizing.!
Several bands provided entertainment and of course there was food everywhere.
Click HERE to view the 2012 Hot Rods and Harleys
** Bubba Blackwell began his career on April 26, 1998, when he jumped 20 cars, breaking the 19 car record held by
Evel Knievel
. The following year, on July 4, 1999, Bubba jumped 14 buses tying the record held by
Evel Knievel
. December 1999, Bubba set another record when he jumped 15 full-size tour buses, a jump of over 157 feet.