RED BANK NJ SIDEWALK SALES 2010
click on any photo to ENLARGE
July 30, 2010. With a long tradition, the 56th annual sidewalk sales got underway in excellent weather. All vendors were enjoying the sun and showing their wares.
The Two River Theater Company, had an innovative advertising scheme, with a train of young actors walking all over town.
I told this pretty young lady that she had a nice smile and she beamed.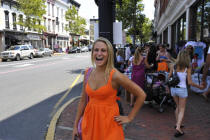 All Red Bank street events have some kind of live music. Today was no exception.
All restaurants and coffee shops were busy with patrons.
To view the 2012 Red Bank Sidewalk Sales, Click HERE.