NEW HOPE FANTASY RENAISSANCE FAIRE 2011
click on any photo to ENLARGE
April 17, 2011. The 2nd annual Fantasy Renaissance Faire was a big success and offered more re-enactors in period costume than at the first faire. The weather man was not kind on Saturday the 16th, with monsoon rains, but the 17th was sunny and mild and the crowds were large.
The first thing noticed, of course, were the great costumes of the knights, maidens, pirates, wenches and rogues.
These musical, story tellers and comic street entertainers kept the crowds laughing.
This juggler was both talented and funny.
Belly dancing with swords.
The pretty 'fire lady' was amazing.
Period music on period instruments.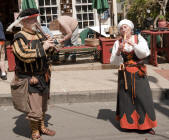 The roving Shakespeare troupe.
Vendors selling their wares.
Walking down South Main Street by the Medieval Gallery were found street musicians, a blacksmith, a pretty lady and many rogues.
CLICK HERE to see the first New Hope Renaissance Faire of 2010