BELMAR SANDCASTLE CONTEST 2012
click on any photo to ENLARGE
July 18, 2012. The Jersey heat wave was on, It was 95 degrees with high humidity, but the beach was crowded and contestants that wanted to participate.
This popular annual contest was hosted by D'Jais Grill and Belmar Tourism. As usual, the media was on hand to cover the event.
Sandcastle contestants were at work all morning. As a casual observer, it appeared that there were fewer sandcastles this year, perhaps due to the heat. Working on hot sand must really wear on a person.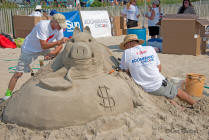 The sandcastle judges were on hand with a tough job of picking winners.
Sun bathers found plenty of the rays they came to enjoy.
As expected, a large percentage of those at the beach were down by the water.
Sometimes when you try taking a candid photo, the person looks up. Smiles take place on both ends of the camera.

Lots of cameras present today. For those who take notice, this young lady is a Nikon shooter.
These three were being towed very high above the beach. (I wonder if it was cool up there?).

Restaurants along Ocean Ave were doing fine. There were other things to enjoy besides the food.
To view the 2011 Sandcastle contest, Click HERE.